Gallery
Solar Panel Tameside Reporter Article- July 2019
A recent article in The Tameside Reporter was published about our solar panels. You can read the article here.
Solar Panels at Ashton West End Primary Academy
In April 2019, our school had a total of 108 solar panels installed by Solar for Schools. The children in KS2 have completed lots of work on solar panels and how they work. The school uses the electricity. This energy is clean and green because solar panels don't cause air pollution, contribute to acid rain or release carbon dioxide or other greenhouse gases. We will also save money on our energy bills each year. We had a representative from Solar for Schools visit us and she used a drone to take some pictures of the panels.
THE Y6 CLASS OF 2018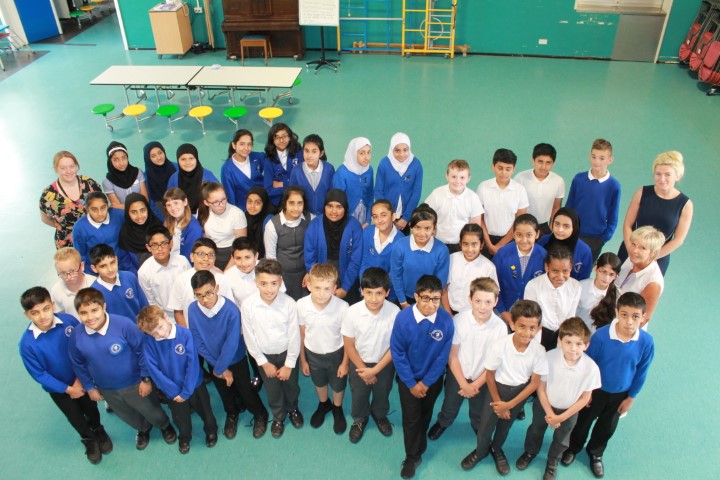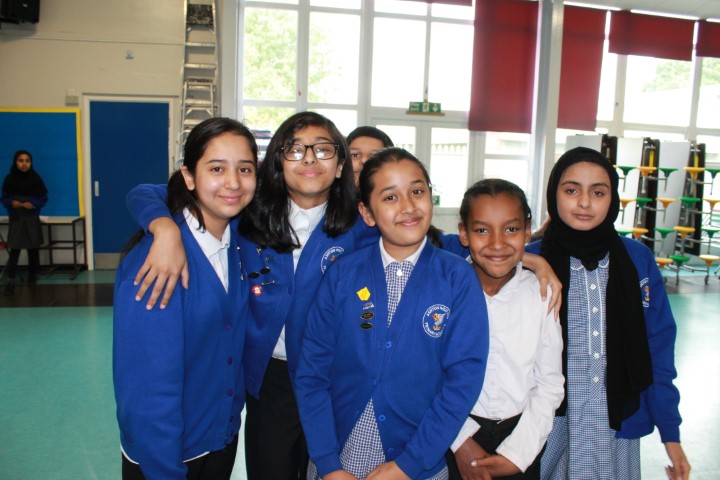 MacMillan Coffee Morning- Friday 28th September 2018
Thank you to all of the parents and children who attended our coffee morning. We were overwhelmed with your generosity. It was lovely to see so many people there for a special cause such as MacMillan Cancer Support. Thanks again.
Joseph Delaney Visit- Monday 24th September 2018
Year 5 and 6 had a very special visitor in school called Joseph Delaney who spoke about how he became a writer and what inspired him to write his books. He told us about his latest book called Abberations and we all had the chance to meet him and he signed his books for us! We had a wonderful afternoon.
Key 103 Cash For Kids Coffee Morning- Friday 11th May 2018
Thank you to all of the parents and children who attended our coffee morning to support Cash For Kids. We appreciate your donations and generosity during the morning. The children dressed as superheroes during the day. The school hall was very busy and we sold lots of cakes and biscuits. Thank you again.
Robinwood Residential: Friday 20th-Sunday 22nd April 2018
Some of our year 5 and 6 children visited Robinwood in Todmorden again this year. They took part in activities such as canoeing, raft building, the zip wire and the piranha pool. They had lots of fun with many facing their fears of heights and water. Well done to all of the children for trying their best on all of the activities.
Dominic Berry visit – March 2017
On the 6th and 7th March 2017, the children took part in workshops led by the poet Dominic Berry. The children performed and created class poems. He also led a school assembly which was really informative, interactive and enjoyable. Dominic inspired us all to write and perform some really creative poetry.
Jack and The Beanstalk Pantomime- January 11th 2017
As a treat for achieving high attendance in each class, we were able to watch Jack and the Beanstalk in our very own hall! It was great fun and we all enjoyed it. We dressed up during the day as characters from various pantomimes. Can you guess from the pictures, which characters we were?
Back In Time For Christmas!
KS2 Show 2016-12-15
The pupils played to a packed hall on 12th December 2016. They did extremely well to remember their lines and looked fantastic in their costumes.
The play told the story of the traditions of Christmas and how long it dates back. Many traditional arising from pre-Christian festivals.
We had Romans, Mesopotamians, Persians, Druids, Celts, Vikings, Tudors and Victorians all laying their claim to part of the festivities.
The overall message was made that Christmas and the Christmas break is a perfect time to spend time with your families, whatever your beliefs may be. So enjoy it!
Visit from Artist – October 2016
Y6 LEAVERS 2016
The staff at Ashton West End Primary Academy would like to wish all the Y6 pupils best wishes for the future.  I would also like to congratulate them on their success in their achievements this year. They have been a great cohort in many aspects of school life. I hope they will continue to work hard and to do their very best in order to achieve greater success in the future.
M.O. Cummings
Headteacher