Repeating patterns
The children have been learning about recognising, creating and describing simple and complex repeating patterns. The children created simple patterns with different seeds and complex repeating patterns with cubes.
Planting
This half term the children have been learning about how plants grow and what plants need to grow. The children have explored the different parts of the plant by planting turnip seeds onto cotton wool so we can see how it grows. The children have found that seeds need soil, light and water to grow by planting cress seeds.
World Book Day
On Tuesday 3rd March 2020 the children came to school dressed up as a book character for World Book Day. The children talked about why we celebrate World Book Day, what their favourite book is. We read lots of different stories and took part in lots of fun activities related to the story We're Going on a Bear Hunt.
Exploring the lightbox
This half term we have been learning about light and dark. We have used the light box to explore how the light box works and how shadows are made. These are some of the pictures we have made using 2D shapes.
Teamwork games
This half term we have been learning to work with a friend to complete a game. We have learnt how to play fairly and follow the rules using the game Snakes and Ladders. These are some pictures of us playing the game by ourselves following the rules.
Exploring the snow
It started snowing today! We are so excited. We got our coats on and went to explore the snow. We couldn't make a snowman because it didn't last very long.
Creative Work
Red Hen
Using the Computer
Lollipop Lady
Making stained glass windows
The children have been learning about light and dark. This week we have been learning about how much light different materials allow to pass through. We made stained glass windows to show that some materials only let a little light through.
Exploring finding the totals
The children have been using shiny and dull shapes to explore finding the total of two groups. The children chose some shiny shapes and some dull shapes then shared the sentence 'I have …. shiny shapes and ….. dull shapes. I have …. shapes altogether.'
Exploring reflections
This week the children have been exploring the question What is a reflection? The children used mirrors to explore reflections and have drawn self portraits to show what they could see in the mirror.
December 2018 – Christmas Nativity
Reception and Nursery have taken part in our production of 'Wiggly Nativity'. The children performed very well, singing clearly and doing all the actions. We are really proud of them all.
We would like to thank all the parents and family who came to see the production and for all your support with the costumes. It was a great turn out and we really appreciate it. We hope you enjoyed it as much as the children and staff enjoyed performing it.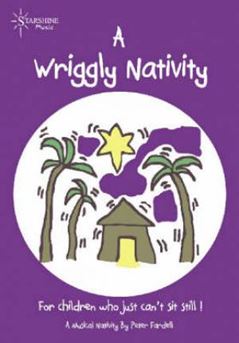 Class work on the London 2012 Olympic Games
We have been learning about different ways to stay healthy. We found out that one way to stay healthy is to take part in exercise and sport and that in 2012 there were lots of competitions for different types of sports called the Olympic Games. These were held in London. This is some of the work we made by ourselves about the Olympics.
October 2018
In Nursery we have been looking at 2D shapes. We have had fun naming the shapes, going on a shape hunt and creating pictures using shapes. We have been practicing sorting by shape and colour and made shape pictures using lolly sticks.